Gunsmithing as Art
A sign of a great company is evident by the dedication they display in keeping their customers satisfied and serviced after the sale. At Krieghoff International we have a resident team of trained and accomplished Gunsmiths to service, repair and maintain your firearm in the fastest and highest quality available. Our Gunsmiths are trained in everything from maintenance tasks to complete rebuilds, and repairs. We are dedicated to providing the fastest service available and send our Gunsmiths to the major shooting events (Visit our travel schedule) as well as service in Ottsville, PA.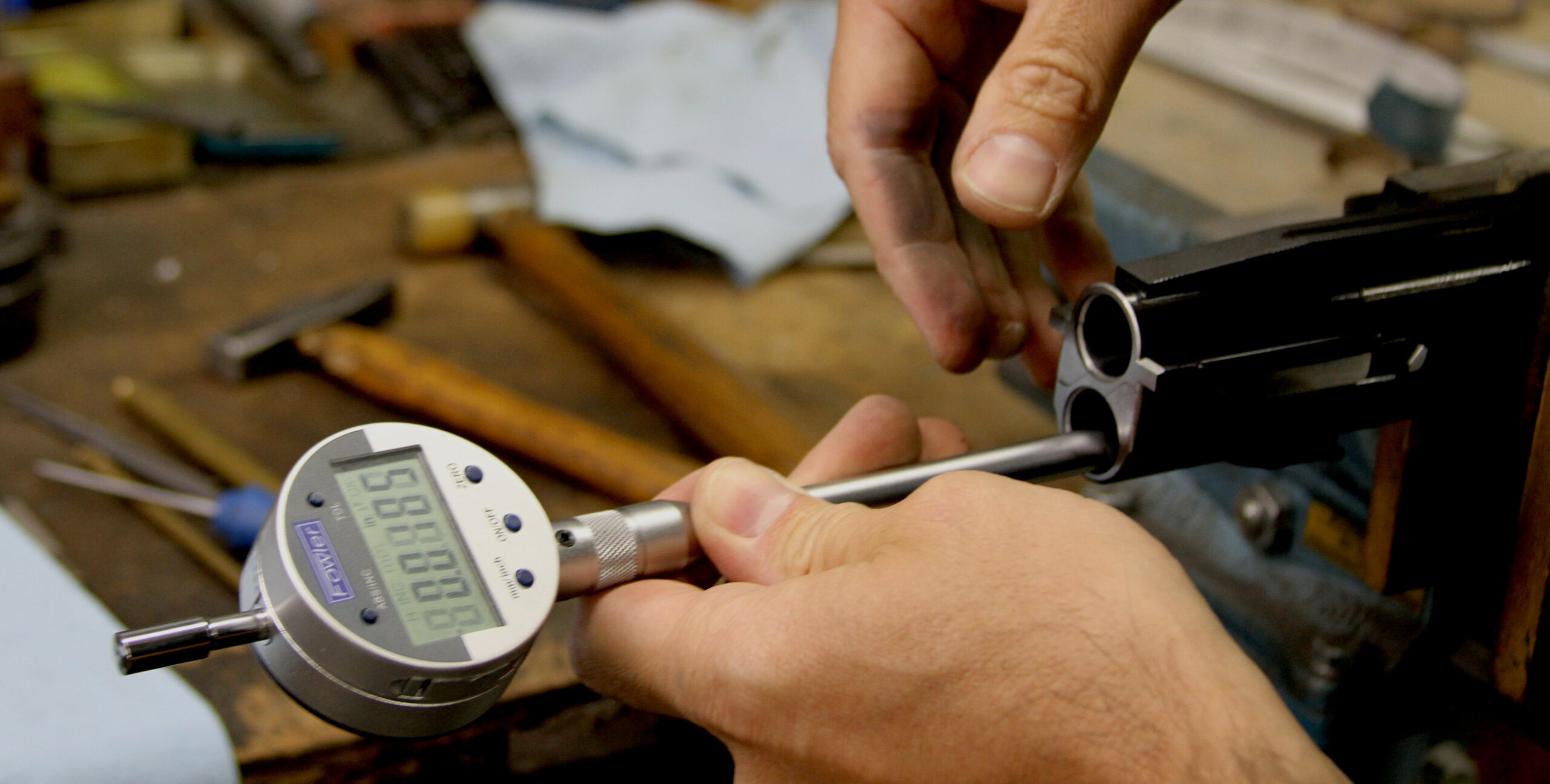 ANNUAL SERVICE AND SERVICE CHECK
ANNUAL SERVICE
During your Annual Service, our highly-skilled gunsmiths will completely disassemble your firearm, inspect for repair, clean and lubricate, and adjust to factory specifications. This service includes checking the gun for headspace, overcock, proper tolerances of sears, ejectors and hammers and complete disassembly and replacement of springs as needed throughout the receiver and forend iron. All parts are inspected for wear and minor trigger and timing adjustments are made if needed. The barrel is tightened to the actions when possible. Replacement of broken or badly worn parts is available, at additional cost. The K-80 Annual Service is $425.00 (1 or 2 Barrels); The K-32 Annual Service is $545.00 (1 or 2 Barrels); The KS-5 Annual Service is $265.00. The KX-5 & KX-6 Annual Service is $245.00. Annual services require the entire gun be sent in to ensure complete and guaranteed service. Annual service prices slightly higher for 3 or more barrel sets.

BASIC SERVICE CHECK
A basic service check is normally done on a gun when it has been in use for 1-2 years, depending on how much it has been shot. The service includes removal of wood, inspection of all working parts for wear and proper timing, complete cleaning and lubrication of receiver, forend iron and barrel.
BARREL AND METAL WORK
BARREL WORK
Krieghoff International Service performs barrel service including porting, replacing sights, removing dents, fitting barrels to your receiver and restamping of numbers. We also can perform point of impact adjustment here at our shop, with our complete underground patterning facility.

METAL REFINISHING
Re-blueing is desirable when your receiver or barrel show the signs of wear. Any rust or pitting should be taken care of before it takes its toll on the function or value of your gun. We offer complete restoration of K-80 and K-32 blueing from just the top latch or trigger guard to a complete 4-barrel set. All metal refinishing requires complete disassembly. We inspect, clean and lubricate all parts when the gun is re-assembled. Minor repairs or replacements are included in the base price. If your receiver has a nickel finish, it can also be put back to new condition. This requires sending the action to the Krieghoff factory in Ulm, Germany, and will usually take around four months for the complete job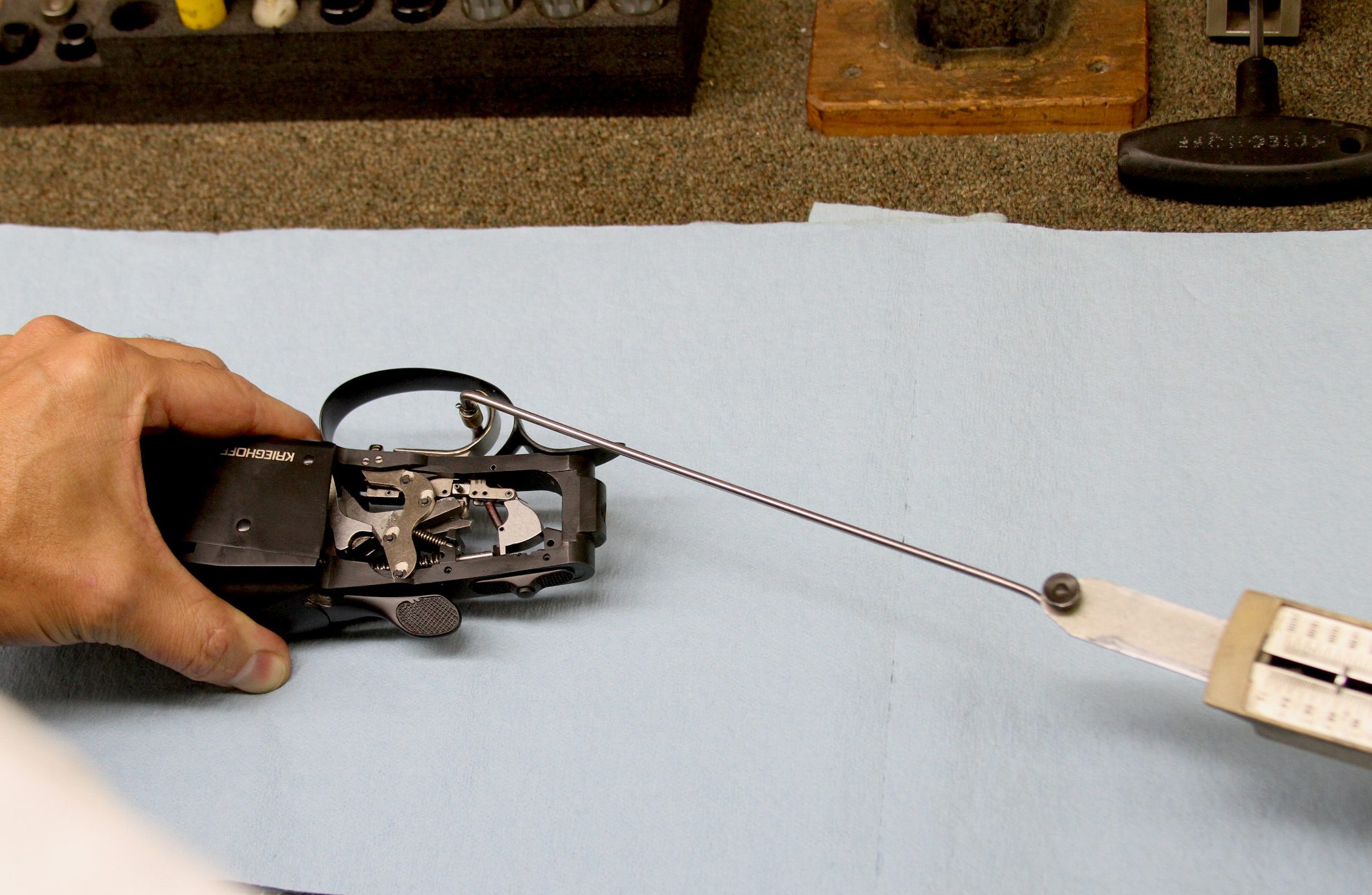 AESTHETICS AND TRIGGER WORK
AESTHETICS
Krieghoff International has a special line of gold inlay top latches and trigger guards that can be installed on your gun. Birds, hunting dogs, broken targets, eagles and American flags are all available in top latches and trigger guards, in nickel, nitride and blue finishes. Personalize your gun with your initials in gold on a special trigger guard, or add a gold target top latch just for a little added style. Please take some time to view the variety of top latches and trigger guards that we currently have available or call us to order your own customized models.

TRIGGER SERVICES
We can adjust the weight of pull, pre-travel or creep, engagement, safety and selecting on your trigger. Factory specified trigger pull weight is 3 3/4 to 4.0 lbs. We will adjust your triggers as close to your specifications as possible, while maintaining operational safety of the gun.

Should you decide that you need a "release" type trigger in your gun, only the Krieghoff service department should install it. Single release triggers are available in models KS-5, KX-5, KX-6 Special, the K-32 and the K-80 and double release triggers are available in the K-80 and K-32. We can also restore your gun to a pull-style trigger after a release trigger has been installed. Please note that a factory release is not available for the model K-80 RT. The sear springs can be updated in older serial number K-32 and K-80 guns. This is the conversion from wire springs to coil springs for better reliability and trigger pull weight consistency. K-80 guns made since the year 1990 will already have the coil-style sear springs.